After spending a week in Paris I'm back in the U.S.A., enjoying the familiar sights & sounds of my neighborhood and missing the sights & sounds of what was—for a few days—my neighborhood there.
We stayed at a small hotel in the Latin Quarter. Across the street was a boulangerie where we could get bread better than almost anywhere here in Cleveland.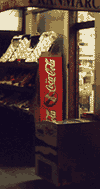 Down the street was a tiny grocery store, not much different from the one a block away from home. A few steps away was a small movie theater that showed American "classic" westerns, a tiny Middle Eastern restaurant, a couple of video game stores and a variety of other businesses.
It felt extraordinarily civilized. We could walk a few blocks in any direction and find fabulous food: bread, pastries, cheese (literally hundreds of varieties), fruit & vegetables, not to mention restaurants serving the food of Lebanon, Afghanistan, Viet Nam and Tibet as well as traditional French.
What didn't we see? Big cars. Big stores. Big streets. Big parking lots. Paris feels like a place made for people rather than vehicles, even given the continual noise of traffic outside our hotel window.
The term for this is human scale. No "big box" retail (Walmart, K Mart, Home Depot, etc.). Retailers have adapted to the existing fabric of city buildings. We saw four or five storefronts with the same company name in the same block. Why? It turned out that each one held a portion of a sporting goods store's inventory: shoes in one, glasses in another, tents in a third. Not nearly as efficient or cost-effective as an airplane hanger of a store surrounded by parking lot, but a whole lot more pleasant.
Below are a few impressions of our visit.
CD-ROM: not extinct in Europe
After a brief period around 1995 when they were the "next big thing," commercially-marketed interactive CD-ROMs have all but disappeared from sight in the U.S., replaced for the most part by websites. What's been gained in widespread accessibility on the Web has been paid for in reduced quality of sound, video and images.
I visited a couple of museum bookstores in Paris and found the format still alive, almost thriving. To my surprise, mailable CD-ROM "postcards" were sold right at the checkout counter. I bought "Le plus beau souvenir de Paris" (The best souvenir of Paris) for about $14. It includes 800 photos and 20 minutes of video. I was also able to purchase an interactive work of art (Cross Currents by Dennis Del Favero), and a guide to Impressionist art based on work at the Museé d'Orsay.
Not bad for a "dead" format.
CD-ROM as artist's book (previous article)
Museums
Of course we went to art museums. Quite a few of them, including the Musée d'Orsay, with its Impressionist riches, and the Centre Pompidou, the inside-out structure that houses an impressive collection of contemporary art.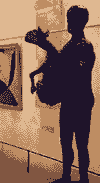 My favorite—and now my favorite art museum in the world—was the Musée National Picasso. A small mansion houses a breathtaking assortment of Picasso's work. The variety is mind-boggling, from small cardboard collages to large steel and bronze sculptures, and includes many paintings, some familiar, others virtually unknown. Yet the museum doesn't overwhelm you as many do. The work is artfully arranged in various rooms, paintings mixing with sculpture, small with large, loosely following in chronological order.
There are side rooms to explore, bird sculptures perched over doorways, a bronze cat on the floor below, and plenty of space between pieces so you can enjoy each on its own terms. In all, a place where you can actually enjoy the work of one of the world's greatest artists.
Picasso Museum (English) | Picasso Museum website (in French only)
Bread
Great food. Everywhere. From the street markets to the restaurants, we didn't have a bad meal anywhere, just variations from good to terrific. The petite pan (bread) served at breakfast at our hotel was the essence of French bread: crunchy crust, soft interior. And on our last night in Paris, at a restaurant a few blocks from the hotel, the mussels in curry sauce appetizer were so good they were worth the price of the entire meal.
Circus
To keep peace when traveling together, Joanne & I have developed a few ground rules. One is that we try to agree on things to do every day, but also we each get to pick at least one thing that the other agrees to enjoy/endure gracefully. Hers was a visit to the Palace of Versailles (yuck). Mine was to go to the circus.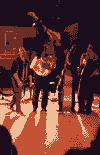 In a free magazine I picked up at the DeGaulle Airport I'd read about a small family circus from Romania that was performing in Paris. Monday night we bought our tickets & stood in line for seats in a temporary amphitheater that held about 200.
No big top—no tent at all, in fact. Just a "high" wire about 15 feet off the ground, a couple of trapezes and rings, similarly hung from a overhead frame, and 20 performers and musicians ranging in age from 7 or 8 to grandma, who mostly held the little ones not yet old enough to perform.
The music was lively and constant. The performers were good, not spectacular. There was little in the way of spectacle, whether you equate "circus" with Ringling Brothers or Cirque du Soleil. But there were jugglers (well, one), clowns (two), high wire acts (sort of), a contortionist, and through it all, music, fun, energy and the sense that people were doing what they loved, not just performing for a paycheck.
On a warm Parisian night under the stars glittering through the lacework of the Eiffel Tower, you couldn't ask for much better.
-Al Wasco, August 20, 2001