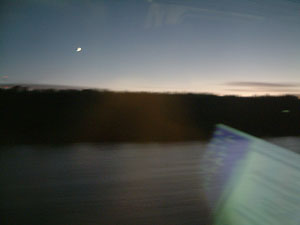 A semi-random collection of notes and URLs from my recent trip to the Meet-The-Makers Web Developers event in New York City. Click at your own risk.
TRAVEL
amtrak.com
The key to an enjoyable train trip (I've taken plenty) is to treat the schedule as an approximation: expect to depart and arrive within a few hours of the scheduled time. En route, enjoy plenty of time to read, doze, drink brandy & coffee while the country rolls by. Or fire up your laptop to type your notes for later use on your website, while the Hudson River rolls by under a crescent moon.
The roominess in coach is unmatched in the airline world. People are usually very sociable, especially in the Lounge car. For better or worse, it seems that the smokers are the most lively group. I sometimes sit with them — even though I don't smoke — to enjoy the conversation and general merriment.
larchmonthotel.com
At the edge of Greenwich Village, this little hotel has a European feel with small rooms, bathroom down the hall, continental breakfast every morning, and prices that are very un-American (as low as $70/night!).
THE EVENT
meet-the-makers.com
A fast-paced shmoozefest with some of the web's big names. Held in the Millennium Broadway hotel on Times Square, it featured small group sessions, comfortable chairs, great food.
THE PEOPLE
Matt Unger zagat.com
Heavy-duty data management provides consumer feedback on travel, food, etc. via web, print, wireless.
Joshua Davis praystation.com
Flash wizard with a rock star look (and attitude). Designed "arty" sites like dreamless.com and onceuponaforest.com, also commercial ones like Barneys.com and Motown.com.
Interesting comments: Mom told him "what brought you success in the past will be your downfall in the future" (don't keep doing the same thing). "Knowing how to buy bricks doesn't mean you can build a house." (why you shouldn't be paranoid about sharing your code).
Eric Meyer meyerweb.com and Jeffrey Zeldman www.zeldman.com, www.happycog.com, www.alistapart.com
Interesting comments: Designers need to face the fact that the Web isn't print. A site that looks exactly the same on everyone's computer just isn't possible. Web accessibility isn't just required by the infamous Section 508, it's a really good idea. And web standards can help move things in that direction. They mentioned:
wired.com Just redesigned using CSS for layout.
alltheweb.com and waferbaby.com. Sites that allow you to change their look with custom stylesheets
Hillman Curtis hillmancurtis.com
Author of MTIV, Process, Inspiration and Practice for the New Media Designer
.Worked with Zeldman on foxsearchlight.com
Interesting comments: "Flash is a tool that changed my life." "Start by asking 'what's the story?' "
After leaving the music business he "worked his ass off," took "humiliating" internships where he was "always the oldest one there," and ended up doing what he loves.
Things of interest found in RES magazine www.res.com
A NY-based mag with good coverage of film and digital media. Things that caught my eye:
Eyebeam
New media art museum in NY's Chelsea neighborhood. I had only a couple of hours on Thursday morning to check it out; since it opens at noon, that didn't work. You can at least visit via the web: eyebeam.org

Book of Probes, David Carson
Design's former bad boy takes on Marshall McLuhan, something of a renegade in his time too. I've always enjoyed Carson's work, which led to a brief encounter with him in Kent, Ohio doing endless letterpress printing experiments that eventually became the back cover of his earlier book, The End of Print. But that's another story.

Flash Frames, Laurie Dolphin & Stuart Shapiro
A book about 40 Flash "maestros." Haven't read it yet, but looks promising. Reviews have been generally promising.

Paris Guide DVD
Designers & artists take you to their favorite Paris locations via motion graphics. Available via the SHIFT website: www.shift.jp.org/factory. Also check out their other CD-ROM and DVD titles.
Palais de Tokyo
Contemporary art center brings Japan to France, also accessible via www.palaisdetokyo.com. If you don't read French, don't bother with the website. (non-working link deleted 7/03)
AROUND TOWN (New York, that is)
Digital Design & Interactive Media degree / Katherine Gibbs School. I don't know, sounds interesting: www.gibbsny.com
S.O.B.
A Finnish interactive piece on display at Parsons School of Design. Someone had unplugged the computer, so I never had the chance to try it. (Sure I tried plugging it back in, but it still didn't work). S.O.B. promises to allow you to explore the world of man. Created by a woman. Hmmm. See for yourself: medeia.com
-Al Wasco, Nov. 22, 2002