The plan for the first-ever Geeks & Gurus Visual Communication & Design lecture series at TriC Western Campus was to bring nationally-recognized web experts, photographers and graphic designers to campus to inspire our students and the local design community.
The first person we wanted was Eric Meyer, a charming guy with a great sense of humor who's written two books on Cascading Style Sheets - the new language of web design. CSS represents an evolutionary (some might say revolutionary) change in how designers create web pages. This is what our students need to know, and Eric was our guy. His books, Cascading Style Sheets: The Definitive Guide, and Eric Meyer on CSS, are widely read and highly recommended. Digital Web Magazine called him "...perhaps the most renowned expert on CSS."
Eric travels the world as Standards Evangelist for Netscape Inc., and he lives literally in our backyard, Cleveland Heights, Ohio. He's going to lead off the Geeks & Gurus series on Feb. 6, 2003.
Every pixel tells a story - March 20
When another faculty member, photographer Dan Levin, suggested that we consider a friend of his as a possible "Geek/Guru" I said OK, just to not hurt his feelings. Dan suggested that we take a look at Richard Tuschman's website. We did. I was blown away by the beauty of his illustrations that combine painting with digital techniques, and called him that afternoon. So, on March 20, Richard will journey from Beachwood, Ohio to share with us his views on inspiration, creativity, and finding success in the commercial world.
Got a problem? Design a font! - April 3
Font design is something that can be done by anyone with a computer and way too much time on his hands. You can see the results all over the Web: tons of self-indulgent, badly designed and gimmicky fonts.
But Brian Sooy has done what only a few type designers manage to do: create fonts that are distributed worldwide by companies like Adobe and International Typeface Corporation. With thousands and thousands of typefaces having been created in recent years, this is no small feat. How does he do it? Well, you can find out on April 3 when he talks about how each of his Altered Ego Fonts designs start with a problem that has to be solved. Brian has to travel all the way from Elyria, Ohio (about 40 miles) for his appearance.
Every picture tells a story - April 17
Since our Photo department emphasizes the importance of storytelling, photographer Linda Butler sounded like a good bet. She's published books on Italy, rural Japan, the Shaker heritage, and is currently working on a large-scale documentary project about China. Her work has been compared in reviews to that of Eugene Atget and Paul Strand. On April 17 Linda will talk about her Yangtze River project. By the way, she lives in Gates Mills, Ohio.
Lecture series information
For more information on the Geeks & Gurus Visual Communication & Design Spring Lecture series at Cuyahoga Community College Western Campus, email me. All events are at 7:30 pm in Room G04B. For campus maps and driving directions, go here.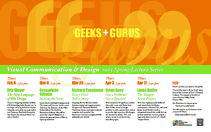 [ Download PDF poster-208k]
Attention high school web designers!
Enter your work in Click!, the Second Annual High School Web Excellence competition sponsored by the Visual Communication Center of Excellence at Cuyahoga Community College Western Campus. The competition was created to inspire participation and reward excellence in web design among students in the Greater Cleveland area.
Students can enter their own sites, personal or professional, goofy or serious, new or previously completed. High school teachers can use the competition as an opportunity to involve their classes in an exciting and challenging project.
Prizes
Winning individuals and schools receive handsome AWARDS OF EXCELLENCE. Other prizes include computer software, website hosting, gift certificates and more. Winners will be announced at an awards ceremony at the Visual Communication Center of Excellence, a sleek new digital design & production facility at Tri-C Western Campus. Winning sites will be featured on the TriC Multimedia program's website.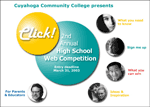 How to enter
You may enter individual or class projects in categories that include Educational, Commercial, and Personal sites. All entries will be judged online, so all you need to do to enter is to complete the required entry forms and send us your site's URL. Judging will be done by a panel of area web professionals and TriC faculty. Entry deadline March 31, 2003.
Information
Visit the Click! website for details on both last year's and this year's competition, prizes, etc. Be sure to click on the Sign Me Up link to be added to our EarlyBird email list. You may also email Al Wasco with your questions.
Geeks of the world, unite!
For those of you who can't get enough of web design, I ran across the idea of a Web Meetup Day in an email. What's that? Well, here's what they say:
"Meetup with other designers and discuss designing internet pages, different programming languages, new web development software, cool web sites, and graphic design. It's a local gathering of a group of people brought together by a common interest. Real world, face-to-face, maybe over coffee or a beer."
It's called International Web Design Meetup Day, Feb. 13, 2003. Sounds like it could be interesting. Sign up and see what's happening in your city.
Old fogey rock & roll
Before you get all offended, let me say that I AM one of those old fogies (56, to be exact). Let me say also that I hate "Oldies" radio with "Hits of the 60s and 70s." I especially hate those nostalgia tours where Jay & the Americans (or whoever) try to recreate their earlier hits as if nothing had changed. Hey, we've changed, the world has changed, music has changed... get used to it.
So I was a bit hesitant about going to a Leon Russell (remember him?) concert last Saturday. But the tickets were free, thanks to the Cool Cleveland newsletter, so how bad could it be?
Joanne & I walked into The Winchester, a small Lakewood, Ohio concert club. Looking around the crowded, smoky room, I couldn't see anyone who was under 30, and I'd put the median age at about 45. Is this bad? Not necessarily. Just a little weird. Made me feel, well, mature.
Leon Russell himself made it even more obvious: when he made his way to the stage he needed a cane to steady himself. But... once he began to play there was nothing the least bit shaky about him. Gave me hope for our generation.
From the first wall of sound that he launched when he sat down at the piano and continuing for about 90 minutes, Leon & the band never let up. I was counting: no more than 3 seconds elapsed between songs. It was obvious that these were pros who'd been playing together a long time, and who enjoyed their work. Clearly there's something to be gained in playing for all those years. Their hard-edged updating of Dylan's Hard Rain's Gonna Fall was one of my favorites.
Leon and the band may have played some of the old hits, but this was no nostalgia-fest. For that at least one old fogie says thanks.
-Al Wasco, Jan. 27, 2003.