Kelleys Island, the largest American island in Lake Erie, is a sleepy place where not much goes on... making it the ideal vacation spot for those of us who like the kick back, enjoy the sun, and read those books that we never get to during the rest of the year.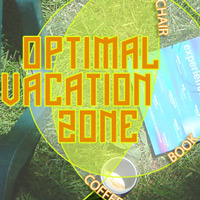 Remember Venn diagrams, how they use overlapping circles to identify areas where everything comes together? (No? Go here for a refresher course.) According to the official Venn diagram website, "The overlap areas are where the 'truth' is."
The photo at right shows a bit of my Kelleys Island 'truth': where the lounge chair, cup of coffee, and book intersect is the zone where I spent much of my vacation. Click here for the full (156k) version of this postcard from Kelleys Island.
The book in the picture, Experience Design by Nathan Shedroff, is one of seven or eight that I read during the two weeks. I'd had no success reading it at home, but loved it on vacation. Read a review of it here on July 30.
Of the other books, most were lightweight fiction. I only remember two:

Dancer, a fictional biography of Rudolph Nureyev by Colum McCann.
I'm not a ballet fan, nor do I generally read biographies, so have no idea why I picked this book up at the Kelleys Island library. It turned out to be an absorbing look at a life marked by harshness and excess.

The Beach Club, by Elin Hilderbrand, just about defines the term "beach reading."
The story, set in a private club on Nantucket Island, describes love lost and regained among a cast of slightly eccentric characters. No redeeming social value, but entertaining. Probably the fact that I was reading it on an island in summer helped.
Buying stuff online — don't make this mistake

The Polaroid film scanner seemed too good a deal to pass up: $250 for a scanner that had listed for over $1500. It was a discontinued model (SprintScan 35 Plus), true, but brand-new with factory warranty. How could I go wrong?
I did a bit of online research and the reviews of this model had been generally good. The seller was eCost, a seemingly reputable online retailer with whom I'd done business with before. I bought the scanner, received it promptly, unpacked it... no problem. Not having any scans to do immediately, I moved it aside and pretty much forgot about it for more than a year.
Bad idea. Here's why:
A couple of weeks ago I did a few scans for the Glamourous Weekend piece (see below), and was patting myself on the back for being smart enough to snap up this bargain scanner. Then last week I tried scanning more negatives to add to the article. Strange... the computer wasn't recognizing the scanner anymore. After trying the usual—restart the scanner, restart the computer, check Extensions, re-install the software—I began to worry. In desperation I went to the Polaroid website for answers. Found nothing very useful, but emailed my question to Tech Support.
I was surprised (amazed, really) to get a prompt and helpful reply. Following this suggestion, I downloaded a fresh version of the software, did a "clean" reinstall, and hit "Preview."
Success! Sort of. After completing the Preview the scanner refused to do anything else, no matter what I tried. Re-installing the software led to the same results.
Email back to Polaroid Tech Support: what next?
Again, a prompt reply, but not what I'd hoped to hear. At least it was honest:
It sounds as though your scanner may be malfunctioning and will require servicing. The cost for repair on a SprintScan 35 Plus ranges between $400 and $660. We require coverage of the $125 estimate fee in the form of a Credit Card or Purchase Order number to set up a repair. However, there are other film scanners on the market for this price range sold as new, so repairing a SprintScan 35 Plus may or may not be the best option.
LEARN FROM MY MISTAKE
Of course at this point the scanner is long since out of warranty. The lesson is: when you buy something, put it through its paces right away. Had I tried doing a few scans early on I'd have run into this problem soon enough to return the scanner or have it repaired under warranty. This is particularly true with electronic devices which tend to fail almost immediately. They don't "break" so much as they don't work right from the get-go.
Sad to say, I had a similar (but slightly less expensive) experience with a Sharp MiniDisk player that worked properly the first time, but never again. It too had passed its 90-day warranty deadline before I tried using it, so the repair cost me $75.
My strategy for new stuff is now "Test early, test often." I'd suggest you do the same. [top]
Buying stuff online — the most expensive chair I ever bought
How much is it worth to be able to work comfortably? Can a $700 chair possibly be worth it? I'm in the process of finding out.
I've worked my way through the whole range of office chairs sold at the big box stores: $39, $69, $89, and finally a "lifetime guarantee" chair for $129. They all have broken within a year, maybe two. Some were comfortable while they lasted, others less so. I finally got fed up with chairs that were only marginally comfortable and had to be replaced over and over again. I was tired of shopping among various models of Hon and Global chairs carried by the discount stores. I was ready to spend serious money to get something good.
I'd heard about, read about, and seen the $1000 Herman Miller Aeron chair, described modestly by the company as "Combining distinctive looks with pioneering ergonomics, Aeron performs like no other chair. It adapts naturally and adjusts precisely to fit people of all sizes and postures doing all kinds of activities, all day long. The imaginative design of both the work and side chairs gives superior comfort, body support, and style that are widely copied but never matched."
Herman Miller is a premium brand known for its design and (I hoped) its quality. It's not known for low prices.
It wasn't easy, but I decided that I needed to invest in my physical and mental health, since I routinely spend up to 8 hours a day in front of my computer. An exhaustive online search and a couple of failed eBay bids led me to the Ultimate Back Store where I bought a "floor model" Aeron for $699, shipping included.
I've been sitting in it for several months now, and I have to say I'm more than satisfied. It doesn't feel or look especially luxurious. It's value is in what it doesn't do: it doesn't make my back sore. It doesn't cut into the backs of my thighs. It doesn't make me sweat. It doesn't make me work hard to adjust its various features. So far, so good. Only time will tell on the durability issue, but it has a 12-year warranty. [top]
My glamourous weekend (continued from last month)
At a "Glamour and the Nude" photo workshop in Troy, NY, I found out that "glamour" isn't my cup of tea. I've added another chapter to the story that began last month. If my scanner hadn't crapped out as explained above, I'd have more pictures too. Anyway, the story starts here and continues with Hardware: Does size matter? [top]
-Al Wasco, July 27, 2003