Hear what happened in May 1970 in a dramatic documentary created by WKSU-FM. (RealPlayer needed)
First-person commentary from students, politicians, Guardsmen is combined with chilling sounds of the events as they happened.
See a detailed map [80k file] of the area showing the sculpture, lines of fire, and locations of students who were shot.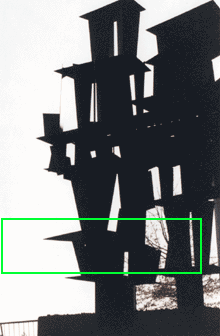 This steel sculpture stands in front of Taylor Hall, near the hilltop where National Guard troops turned and fired on student demonstrators at Kent State University on May 4, 1970.
Notice the tiny white dot near the center of the green rectangle. A bullet from an M-1 rifle pierced the thick steel plate. Guardsmen fired more than 60 shots in 13 seconds, killing 4 students and wounding 9 others.
The photo was scanned then modified in Photoshop to create the image used as the banner art. For more information, contact me
via email.