Eats to Go
It's a drag to come home night after night and prepare good, nutritional meals for the family, right? Or, tredging through an array of unhealthy, deep-fried menu options at your work, or school cafeteria. This site, Eats to Go, is designed to offer a variety of food choices, while dabbing into this areas rich ethnic culinary heritage. The focus will primarily be places that offer carry-out. Each week we'll explore everything from the simple hamburger to dishes from Jerusalem. We'll also introduce visitors to the people behind the food. And delve into what made them want to open a restaurant. Links to restaurant websites (if available), location and phone numbers will be a click away. The dish below is this week's featured item. For more information on this item click "more eats 3." Now, sit back and enjoy the tour.
Shawarma Platter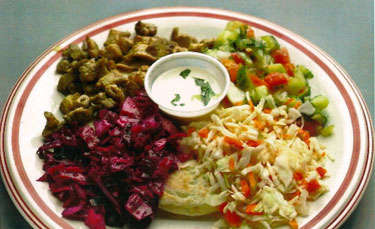 Israeli salad
Red cabbage salad
Vegetable cabbage
Pita and tachina sauce and meat
When pastry chef Oren Gahanian arrived in Cleveland from Israel in 1998, he had more up his sleeve than chopping and dicing vegetables in somebody else's restaurant. His goal was to share the recipes of the Middle East. So he opened Jerusalem Grill in May. "I wanted to open a kosher restaurant with Mediterranean and Israeli-type food," said Gahanian. "People who eat kosher are limited on what they can get in Cleveland. We are trying to make things that people can get at our place that can't get anywhere else." The Shawarma Platter ($8.99) comes with well-seasoned shawarma meat— a mixture of turkey, lamb and chicken. The wonderful blend of herbs include freshly ground turmeric and cumin. A variety of green and cabbage salads are on the side. All come neatly packaged separately for the ride home.