Hey, the price is right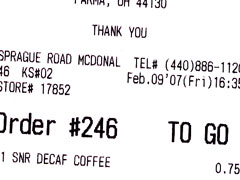 When I'm on the road I usually stop at McDonald's for coffee. It's inexpensive, reliably good (not great) and let's face it, not hard to find.
I was amused to see that in a taste test done by Consumer Reports the brew from Mickey D's beat Starbuck$, among others. I've never been a big fan of Starbuck$, and agree with the testers who thought it tasted "burnt."
Actually, I'm more concerned that the order taker at McDonald's rang up my purchase as a "Senior" coffee without so much as asking. My vanity keeps me from asking for the Senior Citizen discount, but obviously that decision has been taken out of my hands.

Our little piece of the Arctic
I know it's silly, but the chunks of broken ice on Lake Erie near shore at Edgewater beach reminds me of ice floes in the Arctic Ocean.
With the wind chill factor today (probably about -10) it felt that way, too.