Corbo's Bakery
12200 Mayfield Road, Cleveland
"Corbo's is unmatched on the Hill or anywhere else in Cleveland for cannolis, cassatas, biscottis and other traditional Italian pastries. Cannolis are pastry shells stuffed with ricotta cheese. Cassatas are traditional Italian cakes (including our wedding cake). Biscotti look a little like small cakes but are quite crunchy."
— Grant from Shaker Heights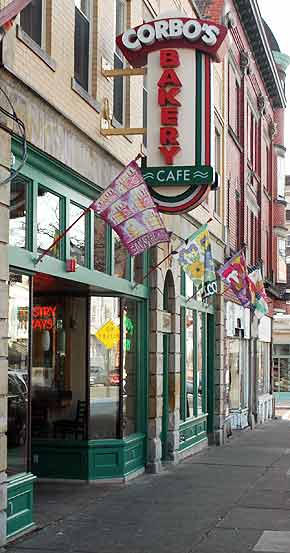 Why Corbo's
Cleveland's Little Italy neighborhood is steep with tradition, whether it be restaurants for fine dining, little shops to leisurely meander through or bakeries to satisfy the sweet tooth.
Located on Mayfield Road, uphill from University Circle and downhill from Lakeview Cemetery and the resting place of President Garfield, is a stretch of shops that includes Corbo's Bakery.
Corbo's is not fancy. But loyal customers say it is the place to go in Cleveland for some of the finer Italian sweets.
The 52-year-old family business specializes in pastries, cakes and, of course, breads. If you stop in for lunch, don't pass on dessert.