West Side Market
West 25th Street and Lorain Avenue, Cleveland
"Dad would arrive home every Saturday with an eclectic mix of pastry, bratwurst sandwiches, cheese and fruit we could try right away. Lured by familiar and foreign food flavors, diverse crowds and friendly faces behind the counters, we soon joined my father in his weekly sojourn. ... Many names have endured due to quality products and endearing personalities: Irene Dever's dairy stand, Pinzone Meats, Rolston Poultry, Johnny's Hot Dog come to mind."
— Jo Ellen from Westlake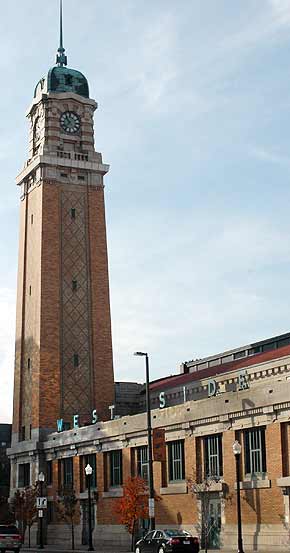 Why the Market
You could go to any old neighborhood grocery store and shop. But if you want an experience, stop by the West Side Market, which has stood at the corner of West 25th Street and Lorain Avenue just west of downtown since 1912.
The architecture of the yellow brick building punctuated by a tower on the west side is great. But the collection of vendors and the flavor of old-style shopping are what set this place apart.
Grab a bratwurst sandwich, relax and take in the scene, then make your way through this bustling place.
One vender may specialize in homemade smoked meats. Another, pigs, beef and veal pork. There are seafood shops, bakeries, produce stands and more.