Slyman's Restaurant
3106 St. Clair Avenue, Cleveland
"If size matters, Slyman's Restaurant is the place to go for your corned beef. Their jaw-stretching, mouth-watering sandwiches are arguably the biggest and best around. Bet you can't eat more than one."
— Brian from Lakewood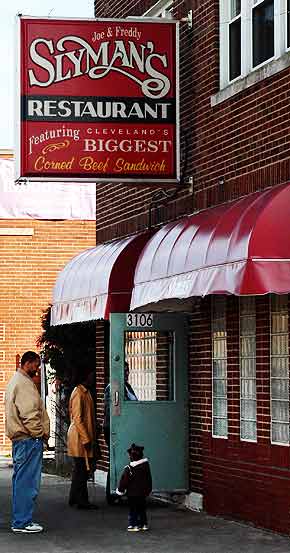 Why Slyman's
If it's lunchtime in Cleveland, there's a line of people stretching down the sidewalk from Slyman's on St. Clair Avenue, waiting to place orders for what might be the biggest lunch sandwich in town.
Established in 1965, Slyman's boasts its own language. A Natural is a plain sandwich, a Smurf comes with swiss cheese and mustard and a Slider includes swiss cheese, mayonnaise and mustard.
Enjoy the scene as the crew behind the counter skillfully juggles multiple orders while they cut the meat and toss together the sandwiches.
Small appetite? Split a sandwich with a friend.
This place received a visit from the Food Network's Rachel Ray on the Cleveland stop for her $40 a Day series.